Enhancing Resilience to Climate Change, through Ecosystem based adaptation approaches (EBA)
Enhancing Resilience to Climate Change, through Ecosystem based adaptation approaches (EBA)
IUCN in partnership with the Mountain Institute received follow-up support to scale up the already initiated EbA efforts in Mt Elgon under the project, Scaling Up Mountain Ecosystem-Based Adaptation: Building evidence, replicating success, and informing policy".  Ecosystem based Adaptation was initiated through a flagship project which was implemented in Uganda from 2010 – 2015 and in two other countries (Nepal and Peru). This flagship project was a joint initiative of the United Nationas Environment Programme (Currently known as UN Environment),  the United Nations Development Programme and  IUCN, with funding from the Germany Government through the International Climate Initiative (IKI). In Uganda, the project was implemented in two districts of Kapchorwa and Kween, specifically  to restore three river micro-catchment namely; River Sipi micro-catchment, River Kaptokwoi micro-catchment, and River Ngenge micro-catchment to build resilience to climate change for communities living within these catchments.
The EbA Scale up project therefore, builds onto the flagship project, to consolidate and replicate achievements that were realized during the flagship phase. Hence with financial support from the same Federal Ministry for the Environment, Nature Conservation, Building and Nuclear Safety (BMUB) of Germany, the EbA scale up project will be scaled up within the flagship countries (Peru,Nepal,& Uganda) but also into three additional countries of Kenya,Bhutan, and Colombia. In Uganda, consolidation of EbA measures is being carried out within the Atari-Kaptokwoi micro-catchment (specifically Kwoti sub county), whereas replication of EbA measures has been initiated in the Sipi-Chebonet micro-catchment, specifically Chema Sub county.
The purpose of the assignment is twofold;
Build the capacity of a community based organisation in the Ecosystem Based Adaptation Approach, as a means of building resilience to climate change within Mountain Ecosystems. This is intended to ensure that the landscape has resident capacity to implement EbA beyond the lifespan of EbA projects 
Ensure effective consolidation and scaling up of EbA measures within the Atari-Kaptokwoi and Sipi-Chebonet micro catchments, to increase the impact of the measures on water quality, land productivity and the livelihoods of the households within these micro-catchments
The overall project outcome of the EbA Scale up project is: "Effective and sustainable Ecosystem – based Adaptation (EbA) measures for mountains are applied and up-scaled and planned for application in other mountainous regions in South America, East Africa, and South Asia and shared globally by key actors". This outcome will be realized through three components namely;
a)    Continuation of mountain EbA measures within the old EbA sites, including monitoring, and adapting of measures to emerging circumstances where necessary.
Scaling up of the Mountain EbA approaches to new sites locally but also advocating for its uptake into local and national planning processes and strategies.
Lobbying for the inclusion of EbA as an adaptation strategy for mountain regions in national and international policies and planning processes.
The project also builds on ongoing initiatives within the landscape, especially the Sipi Integrated water resources management and development, by the Ministry of Water and Environment. The Scaling up Mt. EbA project directly contributes to restoration of the Sipi Sub catchment, including restoration of river buffer areas, increasing tree cover, and controlling soil erosion through application of selected EbA measures thereby directly and indirectly contributing to ecosystem resilience, sustained ecosystem services, reduced disaster risks, as well as diversified and sustainable livelihoods, all of which underpin climate change adaptation.
In order to determine the EbA measures which should be scaled up or replicated, a vulnerability impact assessment and baseline was carried out in June – July 2018 to determine those EbA measures which show promise in terms of effectiveness and sustainability.  A total of four EbA measures were recommended for scale up. These include;
Micro catchment vegetation, for River bank protection; This involves participatory marking of the river buffer (15m agreed upon for R. Kaptokwoi and 6m agreed upon for R. Chebonet), eliminating cultivation activities and re-vegetation of the river buffer through natural regeneration, and planting grass (Bamboo & Napier) and trees.
On farm soil and water conservation; this includes establishment of contour trenches (Fanya juu and Fanya Chini) stabilised with grass and/or shrubs and contour bands stabilised with grass. These will be promoted alongside practices such as contour planting, crop rotation, as well as mulching with crop residues to reduce on nutrient mining, increase organic matter and improve the soil structure.
Agroforestry to provide wood and reduce pressure of forests and woodlands; this includes integration of trees within crop land e.g., on farm boundaries, within river buffer areas, as well as trees for stabilizing soil and water conservation structures.
In order to effectively implement these three EbA measures in the two micro-catchments mentioned in (1) above, partnership is sought with a local community based organization whose mandate and geographical scope intersect with the objectives of the EbA Scale up project.
KADLACC was identified as a local community CBO to undertake the above task after institutional understanding through signing an implementation agreement for a period of eleven months.
The geographical scope of the assignment was Sipi sub-catchment, but implementation targeted Teryet, Kwoti and Kween parishes of Kwoti sub-county within the Atari-Kaptokwoi Micro-Catchment, and Matebo, Chepkwongin and Chebaser parishes of Chema sub-county in the Sipi-Chebonet Micro-Catchment.
Progress of EbA Project Activity Implementation
This report narrates the progress of implementation and focuses on delivery of outputs, Achievements in terms of impact and lessons learnt for the period February-Dec 2019. The details on the progress are as indicated in table 1 below.
Community tree nurseries:
Table 1: Progress on the activities implemented, achievements and lessons learnt
Core team
IUCN
The Mountain Institute
National Partners
Kapchorwa Local Government
KADLACC -Kapchorwa District LandCare Chapter


Facilitate the management of six established community tree nurseries within Kwoti Sub County, so as to raise approximately 6,000 seedlings from each.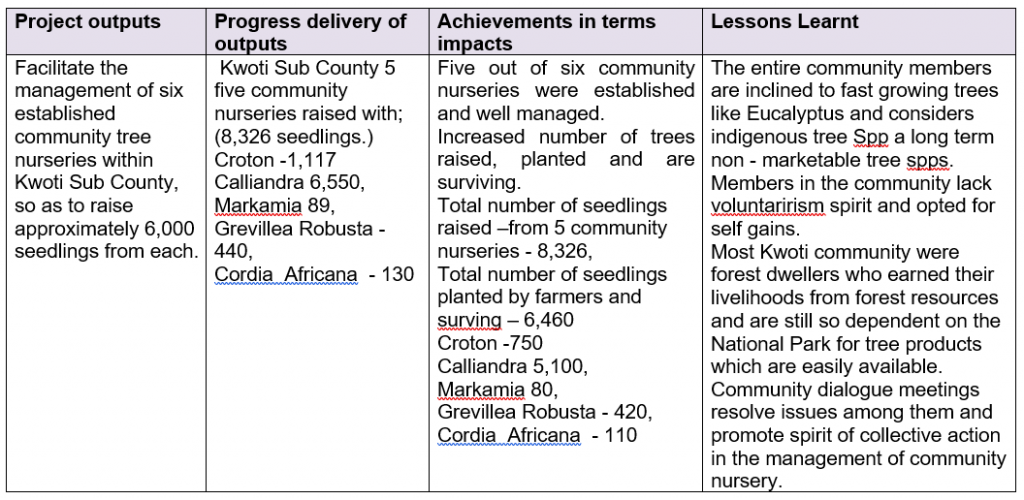 200 Ha of land planted with an appropriate number of trees; 100 Ha in Atari-Kaptokwoi, and on100Ha in the Sipi-Chebonet micro-catchments.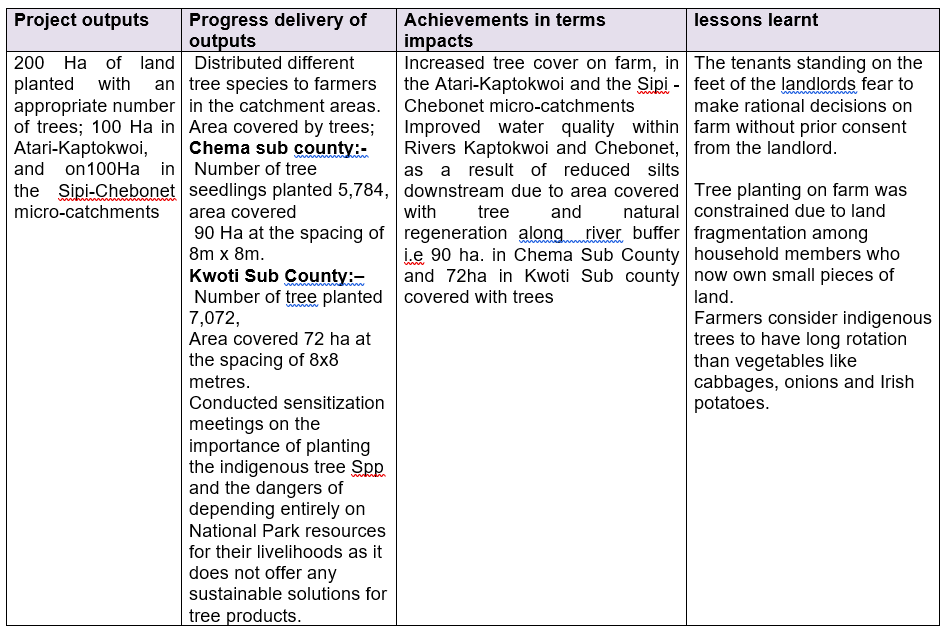 200Ha adequately covered with soil and water conservation measures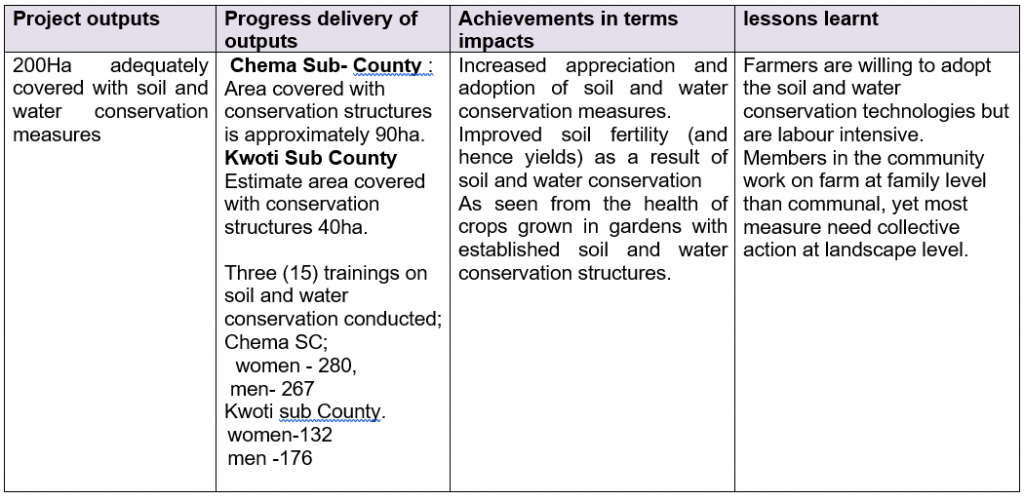 Indigenous tree species and grass planted on a 2.5km stretch of river Chebonet, on the side of Chema Sub County, and on another 1.5Km stretch of river Kaptokwoi in Kwoti Sub County